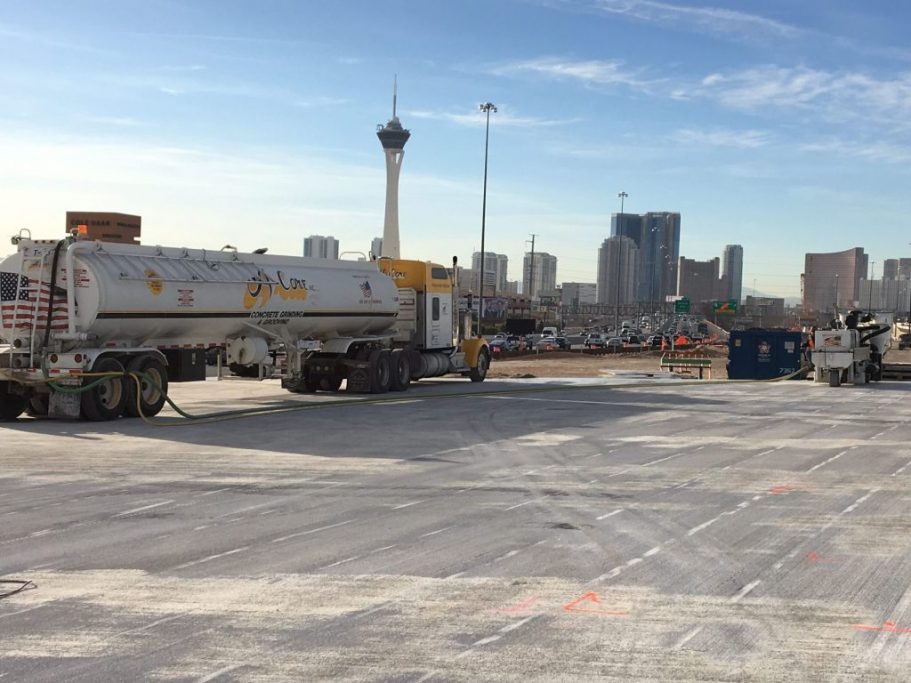 When the state of Nevada undertook the largest Department of Transportation project in the history of the state with Project Neon, they hired the best contractor they could find. A-Core is proud to be a part of the construction team assembled by contractor Kiewit Infrastructure West as they provide all the concrete grinding for this amazing $1 billion construction project.
What Is Project Neon?
Anyone who has driven into Vegas knows the terrible congestion drivers encounter as they approach downtown. The interchange where I-15, Interstate 515, US Route 93, and US Route 95 meet is known as the "Spaghetti Bowl," an apt moniker considering the tangled web of roads. The Spaghetti Bowl was completed in 1968, and at that time, it adequately met the needs of Las Vegas traffic.
Flash forward to the 21st century and Las Vegas is now a Nevada boom town. With 300,000 vehicles traveling through the interchange every day, the 3.7-mile stretch of I-15 leading from Sahara Avenue to the good old Spaghetti Bowl has become the busiest bit of roadway in the entire state. 25,000 lane changes per hour make it one of the most dangerous, as well. This three-mile-plus length of freeway has an average of three accidents per day.
The purpose of Project Neon is to relieve much of the congestion and prepare the road for expected growth. The project will make the following changes:
Convert express lanes on I-15 to HOV
Reconstruct Charleston Interchange
Directly connect HOV lanes between I-15 and US 95
Add a new I-15 HOV interchange
Extend Grand Central Parkway to Industrial
MLK realignment with a flyover at Charleston
It is hoped that these changes will create better access to downtown Las Vegas, improve freeway operations, and reduce travel delays.
What Role Does A-Core Play in Project Neon?
When A-Core Concrete Cutting opened its doors in 1974, it quickly earned a reputation for honesty, integrity, and hard work. These core values are still important today, as A-Core is known throughout the Rocky Mountain West and Southwest as a premier Utah concrete grinding company. Due to their excellent reputation for high-quality work, A-Core was awarded the contract for all the concrete grinding on Project Neon.
Concrete grinding is a key part of road construction. Grinding reduces irregularities in road surfaces such as faulting or spalling. It smooths and eliminates the disparities between concrete slabs at joints and cracks. A newly-ground surface not only provides a better ride, it also reduces road noise and improves safety.
A-Core Concrete Cutting has the experience needed to tackle a job as large as Project Neon. They have successfully completed other challenging, high-profile contracts in the past, such as grinding and grooving for the Hoover Dam Bypass Project. Opened in 2010, this arch bridge is the widest concrete arch in the Western Hemisphere. A-Core's work on the span created a safe and secure road surface for the 14,000 cars that drive it daily.
With A-Core's excellent reputation behind it, they have shown their ability to undertake major projects and perform quality work on time. They are bringing all their expertise to Project Neon to ensure that the finished road is smooth, safe, and ready for traffic.
How Is Project Neon Progressing?
Construction began in July of 2016 with work on US 95, local streets, and the ramp braiding of I-15. This phase of the project took almost two years, finishing in March of 2018. Today, Project Neon is about 70% complete, and is in the phase known as the "Main Event." This portion of the job is primarily focused on I-15 construction and the reconfiguration of US 95. Right now, construction crews are working double shifts six days a week in the intense heat of a Nevada summer to get I-15 fully open by November.
Construction crews have finished 13 of the planned 28 new freeway bridges and have installed 14 Active Traffic Management signs. These giant electronic screens flash warning messages to motorists about potential driving hazards. These can include accidents, stalled vehicles, inclement weather, and unusually heavy traffic. The idea is to give drivers a heads-up about road conditions so that they can avoid snarls and slow-downs. NDOT expects to install a total of 42 Active Traffic Management signs as a part of Project Neon.
The last phase of construction is expected to begin in November 2018 and finish in July of 2019. This stage will complete the HOV flyover that will permit motorists to stay in the HOV lane as they connect from I-15 to US 95. This reduces the number of lane changes required to get onto US 95, thereby making traffic patterns safer.
Who Is on the Project Neon Team?
A project of this magnitude doesn't happen without partnerships and collaboration. The three project partners are:
The Nevada Department of Transportation
The US Department of Transportation Federal Highway Administration
The city of Las Vegas
NDOT oversees the roads of Nevada. They are responsible for planning, construction, and maintenance of the state's highways and bridges. Their engineers are a crucial component of the development of Project Neon.
The Federal Highway Administration provides assistance and support to states in the design, construction, and maintenance of the nation's freeways and highways. As a major part of Project Neon concerns the redevelopment of I-15, FHWA's financial and technical assistance has been necessary and pivotal.
The city of Las Vegas is responsible for over 1,000 miles of roadway within their boundaries. They are a major player in the design and reconstruction of the local roads that feed into the Spaghetti Bowl.
The two members of the design-build team are Atkins Global and Kiewit Infrastructure West. Atkins Global is an international design and engineering firm that provides construction and program management to projects worldwide. They were a design-build partner for the Hoover Dam Bypass Bridge, a project A-Core also worked on.
Kiewit is one of the world's largest construction and engineering companies. They have assembled a skilled team of professionals for each stage of the work. A-Core Concrete Cutting is proud to be a part of the team and perform all the concrete grinding for Project Neon.
Sources
https://www.roadsbridges.com/current-state-project-neon-360-degrees
https://www.desertusa.com/desert-activity/hoover-dam-bridge.html
https://www.fhwa.dot.gov/pavement/concrete/diamond.pdf